50 Plus MILFs RSS Feed
Visit 50 Plus MILFs for more.
01/10/2019 04:30 PM
Keli Richards gets her old ass pounded
Keli Richards gets her old ass pounded
When this scene opens, 52-year-old Keli Richards is wearing a tight, white top and a tight, short, pink skirt and checking out who's been sleeping in the guest bedroom. It's her son's friend JMac. She's had her eyes on him for a while.

"I'd just love to take his cock up my ass," she says.

She strolls into the bedroom and lifts the sheets to check out his package. She's impressed.

"I wonder how that cock would feel up my ass?" she says. She plans to find out.

At that point, JMac wakes up in a state of panic. He's afraid they're going to get caught. What about her husband, her son?"

"Just enjoy it, baby," Keli says. "Lie back and enjoy it."

It doesn't take much to convince him. Besides, she already has his cock out, so she sucks it. She makes it very wet. Then JMac fucks her mouth, and she loves sucking his balls.

When the fucking begins, JMac pounds her pussy in the lockdown position with her legs all the way back. You can see and hear how much Keli is into it. He pounds her pussy some more and slaps her ass.

And then Keli gets what she wanted all along: JMac's big cock deep inside her asshole. He really pounds it. Her asshole is stretched around his cock. When he's not pounding her ass, she's moving her ass back and forth on his cock and spreading her ass even more so he can get deeper. And then JMac shoots his load and Keli eats his cum.

Pretty impressive for a first-timer, right? Well, Keli's no newbie. She was a big-time porn star back in the big-hair 1980s. She fucked 'em all, including, huge-dicked John Holmes, and ate Nina Hartley's pussy, among others. And now she's back and ready to become a MILF porn star.

How much does Keli love anal?

"I love masturbating with two dildos at a time, one in my pussy and the other in my ass," she said.

By the way, fucking on-camera isn't the only thing Keli has done. While she was away from porn, she worked in accounting and taxes and even in the medical field.

But she's back where she belongs, doing what she does best.
01/08/2019 04:30 PM
1980s porn superstar Keli Richards returns
1980s porn superstar Keli Richards returns
Now here's something special! Keli Richards, world-famous porn star of the 1980s, is back, and we have her! As one writer said, "Her flame burned brightly at a time when Ronald Reagan was president, video was king, and Los Angeles was staking a claim to be the adult film capital of the world."

Back then, Keli was in her late teens and early 20s. Now she's 52 years old, and she's making her comeback by sucking and fucking JMac's big cock and taking it up her ass, which was always her specialty.

"Johnny Wadd, Dick Rambone, 15 and a half inches up the ass," she recalled. "Guys still Tweet about that, and I love it."

She did her first girl-girl with Nina Hartley. She fucked Tom Byron, Jerry Butler and the aforementioned Johnny Wadd, aka John Holmes. A rock band wrote a song about her. In an era when big-haired porn starlets ruled the universe, Keli was one of the best.

She's even better now than she was before. Still wild and sexy. Still raunchy. But because she's older, she has a way about herself that'll make your cock instantly hard.

Keli is divorced. She has one child, so she's a MILF. She's not a nudist, but she loves walking around nude.

"I'm loud and I love to be manhandled," she said. "I want a man to walk into the room and tear the shirt off me. I just want him to grab me like I've never been manhandled before because I like it rough and I like it sexy and I like it hot. Then I just want you to grab those nipples and just bite 'em and lick 'em. There is no softness here. Absolutely none."
12/27/2018 04:30 PM
Shannon's long-awaited first XXX
Shannon's long-awaited first XXX
You wish you had a masseuse like Shannon Blue, a 53-year-old divorcee from the UK. Shannon is dressed for tips in a low-cut dress that shows off her huge rack. Max, who's 24 years younger than Shannon, is lying on the table, thinking he's going to get an ordinary massage, but then Shannon leans over and smothers his face with her tits, then she takes out his cock, pours oil on it and gives him the greatest hand job he's ever had.

But Shannon isn't done with him. No, this isn't going to be a quickie happy ending. She sucks his cock then offers up her rack for a tit-fuck, then gets up on the massage table so he can fuck her pierced pussy. And then, Kyle cums all over her tits.

It's an impressive first-time fuck by this British MILF, who made headlines in the UK when she used her divorce settlement to super-size her tits from D-cups to M-cups. When we read about her in the British tabloids, we quickly contacted her. Shannon was eager and excited about showing off her beautiful body for all the world to see. And then she was very excited about fucking on-camera.

"I don't think I have any special talents, but who needs talent when you have large breasts?" Shannon said.

We think Shannon has many talents, and she shows them off in this scene.

Shannon buys most of her bras from Ann Summers, the famous British lingerie and sex toy company.

"The biggest cup size I can get is an H-cup. I like to wear balconette bras. I love wearing low-cut tops and dresses that show off my breasts. I might as well flaunt them, right?"

Damn right!
12/25/2018 04:30 PM
Shannon Blue's first XXX
For 50PlusMILFs.com members, this is likely your first look at Shannon Blue, a 53-year-old divorcee from the UK who made a big splash in the British tabloids when she used her divorce settlement to super-size her tits from D-cups to M-cups.

But there's a very good chance you're being joined right now by a lot of SCORELAND big-boob lovers who have been waiting to see Shannon go hardcore ever since she debuted about 13 months ago.

"I can't get enough of my new boobs," said Shannon, who lives in Bulgaria. "They've completely transformed my life and they look and feel amazing. Most of my clothes are stretchy, so my breasts are always on-show."

Shannon loves to show off. She loves when guys stare at her big tits. They're there for the looking. She has a pierced pussy that's fucked hard in these photos. Shannon is not a shy person.

"My wildest sexual encounter?" Shannon said. "Being fucked up against a tree after being tied to it."

The thing is, before her transformation, Shannon wasn't a stripper or a nude model. She was never a swinger. She did go to a nudist resort.

"I tried it once in the UK," she said. "It was a good feeling, very liberating."

Shannon is a mom and a grandmother.

"I suppose I am a GILF," she said. Damn right!

"I like to initiate sex. If I need sex, I have to have it then and not wait. I like it every day and I am assertive about it. I swallow because spitting makes a mess. I love being licked and giving blow jobs and being massaged. I masturbate often and I like to wear Latex."

Here, Shannon is a masseuse who initiates sex. It's a very impressive XXX debut.
12/06/2018 04:30 PM
Ruby O'Connor's first big, black cock
Ruby O'Connor's first big, black cock
"I had had a couple of threesomes, and the guy I had the threesomes with moved away," said 56-year-old wife, mother and grandmother Ruby O'Connor from Arizona. "So he said, 'You need to join a swingers website,' and me and my husband did, and it was funny because the very first night we joined the website was a meet-and-greet and hotel takeover, so that was my introduction to the swinger lifestyle, and what was funny about that was I found out what a Sybian is.

"A Sybian is like riding a bull, but you have a cock on it that's remote-controlled. That was quite an experience! I didn't wade in. I went in the deep end! A girl just led me over to it, and I started riding it and was very turned on. I didn't notice at first that everybody was watching, but it was an exciting adventure. Later that night, I had a threesome with my husband and another guy."

Today, Ruby's adventure is sucking and fucking her first big, black cock. The guy with the BBC is 22 years old, so there's the older woman/young man factor, too. It all adds up to a great scene that climaxes when John shoots his load on Ruby's pussy, which has a little bit of hair. It's not a full bush. It's not fully shaved. It's nicely trimmed, and John really creams it.

Good for him. Better for Ruby!
12/04/2018 04:30 PM
Young, black cock for MILF Ruby O'Connor
Young, black cock for MILF Ruby O'Connor
Ruby O'Connor is 56 years old. The guy she's sucking and fucking in this hardcore scene, the second of her life, is 22, easily young enough to be her son, almost young enough to be her grandson. Yes, she does have children and grandchildren. She also has a husband who enjoys sharing his hot wife with others. But he's never shared her the way he is here. He drove his lovely wife to the airport in Arizona and said, "Have fun!" She did.

The dude, John Long, gets a great blow job from Mrs. O'Connor then pumps his dick deep inside her MILF pussy and coaxes one cum after another out of her. When he's satisfied that she's been satisfied (and, really, when he can't hold back any longer), he backs off and unloads the contents of his balls onto her pussy. And then, just to prove what a good little newbie porn star she is, Ruby reaches down, spoons up some cum and licks it off her fingers.

We asked Ruby about her sexual fantasies, and she said, "I would like to do two, maybe three black men. Maybe even be blindfolded and try to guess which one is which, maybe which one is in my mouth and which one is in my pussy. That would be fun."

Ruby is from Arizona. Before this scene started, she said, "I saw his cock, and it was huge. I hope I can handle it. I'm going to give it everything I've got!"

How'd she handle it? Very nicely. And she gave as good as she got.
11/22/2018 04:30 PM
Cyndi Sinclair's anal adventure
Cyndi Sinclair's anal adventure
Poor Rion. He stayed over at his girlfriend's house last night and can't find his belt. Probably misplaced it while he was throwing off his pants so he could fuck her. So he calls his girl on his cell phone, and she suggests looking in her mother's room. Why would it be there?

"Your mom scares me," Rion, who's 26, says. "She's terrifying."

Well, while Rion is upstairs, Cyndi comes home, wearing a sexy business outfit with a short skirt. Meanwhile, Rion finds Cyndi's pleasure chest, looks inside and discovers Cyndi's whips and paddles and a butt plug. And then she walks in on him.

"Rion!" Cyndi says.

"I'm so sorry," Rion stammers.

"What are you doing in here? What did you find in there?"

"I'm not really sure," he says.

"Well, why don't we go through it?" she suggests.

He picks up the paddle, and Cyndi says, "That's for people who don't follow rules."

Then he picks up the butt plug.

"Do you know what that one's for?" she asks.

He guesses wrong twice then says, "Does it go in your butt?"

"This one goes in my ass. That's right," she says.

Well, at this point, Cyndi, who's 50, knows what she wants, and she no longer cares that Rion is her daughter's boyfriend.

"Stephanie doesn't need to know about this and neither does her father," Cyndi says.

Cyndi gets undressed. She's wearing little panties that barely cover her pussy. Her tits are small and perky. Her nipples are hard. She sucks his cock and balls, then she has him work the butt plug in and out of her ass. Is that a preview of what's to come? Damn right it is because after Rion fucks Cyndi's tight pussy, he fucks her old ass, too.

But we're guessing that Rion is going to have a problem. Having fucked Cyndi, he's not going to want to fuck her daughter ever again. He's always going to want Mom.
11/20/2018 04:30 PM
Ass-fucked by her daughter's boyfriend
Ass-fucked by her daughter's boyfriend
Rion, who is 26, is at his girlfriend's house, having fucked her the night before under her mother's roof, when he stumbles upon Mrs. Sinclair's pleasure chest of toys. A whip. A paddle. A glass dildo. No wonder his girlfriend is so kinky. She got it from her mom! Well, Rion finds out exactly how kinky and wild Mrs. Sinclair is when she walks in and catches him snooping.

Some women would tell Rion to stop sticking his nose where it doesn't belong. Some women would get embarrassed and kick the kid out of the house. But 50-year-old Cyndi isn't like most women. So she sucks his cock. She has him fuck her pussy and asshole. Because that's what she likes. Actually, she likes a lot of things.

"I'm into BDSM," Cyndi said. "I was actually a collared sex slave for five years. I did a lot of mainstream training for that. I saw a video and that got it all started. I got really curious about it. I thought I was more of a sadist but it turned out I'm a masochist because I like the sensations. The gentleman I was with turned out to be a master who was associated with a dungeon in Las Vegas, so I went to Las Vegas for five weeks for an intense training program. There were 10 slaves and 10 masters. And each person would have several different masters. You weren't allowed to speak for five weeks."

We asked Cyndi if she thinks that experience changed her, and she said, "Absolutely. It gave me more of a perspective on other people and how they react to things. But this was a long time ago. Almost 30 years."

And now she's doing this.
11/08/2018 04:30 PM
Justine gets her hairy pussy banged
Justine gets her hairy pussy banged
"I'm dominant and very sexual," said 53-year-old divorcee, mother and grandmother Justine, aka Goddess Justine, aka Badd Gramma. "I know what I want. I'm very intuitive. I can go with the flow."

This video opens with an interview, in which the blonde hottie tells us all about herself. Then the guy, who's young enough to be her son, shows up. He takes off her shoes and works his way up her legs. She sucks his cock, then he fucks her hairy pussy every which way on a couch. From her moans, Justine is obviously very into it. He's into her. We can tell by the way he unloads the contents of his balls all over her pretty face.

"I'd like to produce my own films some day, so I'm learning a lot but just enjoying being on this end of things," Justine said. "I've done a little producing. I know it's a lot of work, but I'm just going to continue enjoying my life and keep going out on my boat when I can and try to travel a lot more. I just got my passport at the tender age of 50. I've been to Thailand and Mexico and Paris, but there's a whole long list of places I want to visit.

"I think I'd like to do an all-female orgy with three to five women, at least. I love outdoor settings, so maybe we can be pagan goddesses in the forest with lots of vines and flowers. That sort of thing. And maybe there'd be a cabin and a stream and we could move around to various locations. Very nature-oriented."

That's Justine...a natural woman.
11/07/2018 04:30 PM
After all these years, an on-camera fuck
After all these years, an on-camera fuck
"I actually was signed by a modeling agency in the '80s, and I was going to do some porn with people like Ginger Lynn and that group, but life took another turn."

So says Justine, aka Badd Gramma, a 53-year-old divorcee, mother and grandmother who, here, makes up for lost time by sucking and fucking a young stud for all the world to see. By the way, it's Justine's hairy pussy that he's fucking. He also cums all over this sexy blonde's pretty face.

Justine has been a professional dominatrix for a while, and she said, "One of my fans, who is also one of your 50PlusMILFs.com members, said he thought I would be perfect for you."

That she is.

There are two sides to Justine: the dominatrix/porn star side and her more-private side.

"I write poetry and I'm also a mother and a grandmother," she said. "I do quite a bit of babysitting. One of my kids is going to a university to get a chemical engineering degree, so that's one of the reasons I do what I do, so I can have the extra time and the resources necessary to support my family.

"I like to go out and sing karaoke. I like to go on the water. Boating, sailing, swimming. That sort of thing. I'm a huge X-Games fan and I love the Winter Olympics. I love dancing, fine dining, arts and culture. All kinds. One night it's the ballet or symphony, the next a Marilyn Manson concert! I love a good memoir. Someday, I'll write my own. Right now, I'm living the dream."
11/06/2018 04:30 PM
This Badd Gramma loves her fuck machine
This Badd Gramma loves her fuck machine
In her first video for 50PlusMILFs.com, 53-year-old divorcee, mother and grandmother Justine (also known on the Web as Badd Gramma) gets introduced to The Fuck Machine. She's very intrigued by this piece of machinery. It fucks her mouth and pussy. At one point, she gets on all fours so it can drill her hairy snatch from behind. All the while, Justine keeps up a steady stream of fuck talk.

We asked her if the people she knows would be surprised to see her here, and she said, "My friends from high school might, but those closest to me already know I'm a sex worker, as we like to call ourselves in San Francisco and elsewhere. I think everyone should be allowed to do this sort of thing as a job, legally, whether that means just posing for photos or actual prostitution."

She also said, "I really love sex and I love money, so it just seems like a natural fit."

Just like the dildo at the end of the fuck machine is a natural fit for her pussy.

Justine masturbates at least once daily.

"I like to lay the vibrator between my thighs so it's touching my clitoris while I stimulate my nipples. I often entertain a dirty fantasy while doing it and sometimes, at the moment of orgasm, I make a magical wish. I recently introduced my friend to a mini-wand style vibrator, and she's hooked! I can't believe she got to her 50s and had never experienced that. What a sheltered life that poor woman must have led."

But then she met Justine. Good things happen when you get to know Justine.

11/05/2018 04:30 PM
Meet Justine, aka Badd Gramma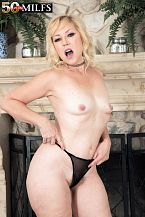 Her name is Justine. That's Goddess Justine to the many men who submit to her dominatrix ways. She calls herself Badd Gramma, but this divorcee from Northern California is great in all the ways that count. She's a 53-year-old, blue-eyed blonde with a sexy body and that knowing look about her that comes with age.

"I'm super-adventurous sexually and a proud pervert, as we like to say in my kinky circles," she said. "After reading the book Feminist Porn, I became a lot less judgmental and started allowing myself to explore what I really like."

Here, she explores a fuck machine. It explores her mouth and hairy pussy.

Back in the 1980s, Justine nearly made her first porno. Then the real world intervened.

"I wound up getting into the computer industry," she said. "I was actually a geek for a number of years, and after the recession, I grew weary of silicon valley and, as you know, it's kind of a brotopia. Silicon Valley really doesn't seem to care for older female employees, so I've decided to became a dominatrix and started shooting my own content, and here I am. Yes, those Google geeks are some of my best clients as a dominatrix. Really, anyone with a high-powered, high-pressure job seems to really like submitting to a dominant female in bed."

Now, some 30 years after she nearly became a porn star, Justine is here, and you'd best believe that later this week, you'll see her sucking and fucking real cock, not a machine.
10/25/2018 05:30 PM
Fuck that ass!
When this scene opens, 54-year-old Kelly Scott tells us this is her first time doing anal on-camera but not her first time doing anal.

"I have a feeling that these guys are bigger than I've ever had."

She's right about that: Her first on-camera anal is with JMac, who has a huge cock.

When she sees JMac, she says, "You'd better go easy on me."

"I'll try," he says.

He doesn't. He fucks her pussy and ass hard in all kinds of positions, including piledriver (in which we get to see the hints of gray in Kelly's pussy hair). He pounds her ass in the piledriver position and finally squirts his load all over her pretty face, getting some in her hair, too. That's usually a no-no with women--they don't like it in their hair or eyes--but Kelly doesn't mind. That's because she had as much fun as JMac did. And he had a lot of fun!

50PlusMILF.com: You're into anal.
Kelly: I am. Is that a fetish?
50PlusMILF.com: We hope not. We hope it's more popular than that. When did you discover that you're into anal?
Kelly: I was probably in my late 20s. It was my ex-husband. He just slipped it in there without telling me.
50PlusMILF.com: No wonder he's your ex-husband!
Kelly: [Laughs] I'm pretty open-minded and he knew it would be okay. And I liked it. It feels good, and you can relax. It's different.
50PlusMILF.com: If you're having anal, will you just lay back and enjoy it or will you rub your pussy?
Kelly: I've done both. If I'm leaning over something like a couch, I can reach my pussy. But it's an enjoyment thing.
50PlusMILF.com: Do you believe in analgasms?
Kelly: I've never heard that word!
50PlusMILF.com: So, the most sure-fire way to get you off is to...
Kelly: Stimulate my clit.
50PlusMILF.com: Are you an easy cummer?
Kelly: It depends on the situation. I can definitely be very easy.
10/23/2018 05:30 PM
Hairy pussy and a fucked ass
"This is my first time doing anything anal on-camera, and I'm really kind of nervous," said 54-year-old mother and grandmother Kelly Scott. "Even though I like it, I have a feeling that this guy is bigger than I've ever had. It kind of scares me and I don't know what to expect, but I'm looking forward to it, and we'll see how it goes."

It goes very well, as you're about to see. Kelly, who's sexy and has a very hairy pussy, sucks JMac's huge cock then gets her pussy fucked, then gets her ass fucked, including in the piledriver position. That's an expert position for a woman who had never done anal on-camera.

Key words: "on-camera." Her personal life is another story.

"I love anal," she said. "It feels good."

She told us that JMac's cock in her ass felt good, too, even though it's the biggest one she's ever had.

"I was probably in my late 20s when I discovered that I like anal," Kelly said, "It was my ex-husband. He just slipped it in there without telling me. I'm pretty open-minded and he knew it would be okay. And I liked it. It feels good, and you can relax. It's different."

Second-best thing about Kelly getting ass-fucked: We get unobstructed views of her hairy snatch. Nice!
10/11/2018 05:30 PM
Young cock for Payton Hall
First, 56-year-old Payton Hall tells us what she's been doing since the last time she fucked for us back in 2013.

Then, she sucks and fucks a young, hung stud. This dude really drills her pussy, and Payton's nice tits quiver as she bounces on top of him. You're going to love Payton's sexy tan lines. Ricky obviously did, so much so that he cums in her mouth and all over her face.

"Nice facial," Payton says when her face is covered with cum. "That's what keeps me young-looking."

Okay. If she says so. Let her believe it!

When Payton first shot for us, she said, "I'm pretty much living out all of my sexual fantasies. Having sex on-camera was definitely one of them. But as for things I haven't done, I'd love to go to Hedonism in Jamaica and travel more. I'd love to totally trust and give my whole self to one person and experience totally unbridled passion. Fucking is great, but sex where you really care about the person is the best."

We can tell you that Payton cared about Ricky. She liked him. But most of all, she liked his cock.